This post was originally published on my new Substack newsletter platform!! Yes, that's right, my writing and recipe developing is moving to a new platform! This is something I've been considering for a long-time and am SUPER excited about. Substack is essentially a blog/website that is also a newsletter that will be delivered to your inbox so you never miss my content. It's a way for me to have more ownership and control of my work, while also moving towards earning an income from the content I create (without having to be tied to advertisers and pop-ups and things that have never really spoke to me). So, if you've enjoyed my writing, my recipes, and other content, please consider following me and supporting my work at my new website: https://laurenrudersdorf.substack.com/
So, without further ado, a little life update and my guide to ramps.
It has been a week my friends, in fact, it has been a couple of (very long, mostly beautiful but also a little overwhelming) weeks.
As some of you may have seen on Instagram, Kyle started a new job two weeks ago. I haven't talked about it much, largely because it's not really my news to share, but also because the position is very much still taking shape.
It's a really exciting opportunity to help transition 260 acres outside Madison to regenerative, carbon-neutral permaculture and grow food for a group of local restaurants that is looking to expand regionally. Kyle will primarily be their vegetable guy, but is also part of the 4-person team getting this thing off the ground.
It is a dream position for Kyle in a lot of ways, but also a pretty big shift for our family who as of four weeks ago thought I would be freelancing full-time to sustain us during this gap year from the farm with the support of my husband who would be providing full-time childcare.
So now we find ourselves with Kyle working full-time, me working part-time (because there are some really great things on my plate I have no interest in giving up, okay a lot of things), and managing childcare together as we wait for our dear friend and former farm worker share Jessica to start watching Lilly two days a week.
That childcare was supposed to start this week (which means I would have only been a whirlwind of multitasking mania for a little over a week), but then at the end of Kyle's first week of work, we all started experiencing COVID symptoms in daily secession beginning with Kyle, moving to the baby, and ending with me. We're all on the mend and feeling much better, but it has been chaos. Pure and simple.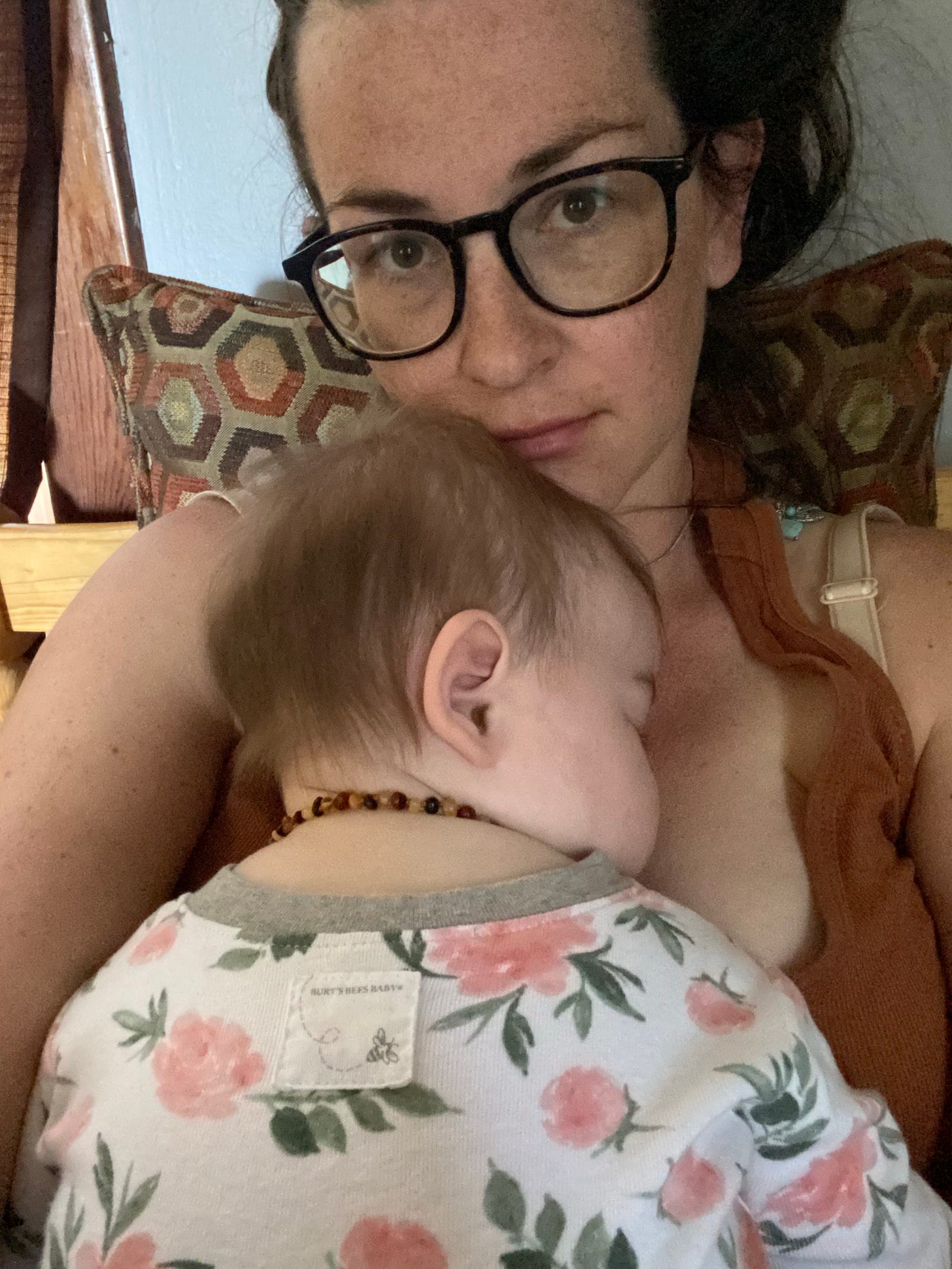 I don't know if you've ever taken care of a sick baby while also being sick yourself while also trying to keep your family fed and not let down your freelance clients, but if you have (and you probably have because… COVID), you know it is a lot. A lot to juggle, a lot to manage, and a lot to handle emotionally.
Somewhere in the middle of this mess, a dear friend who forages out in the Driftless and brings us ramps to enjoy every year, dropped his annual package of ramps on our porch to which I said: THANK YOU!!!!!! and also, well god damn it.
The timing wasn't great, but lucky for me, spending time in my kitchen grounds me, and (somehow) adds stability to my chaos even when it's adding more work.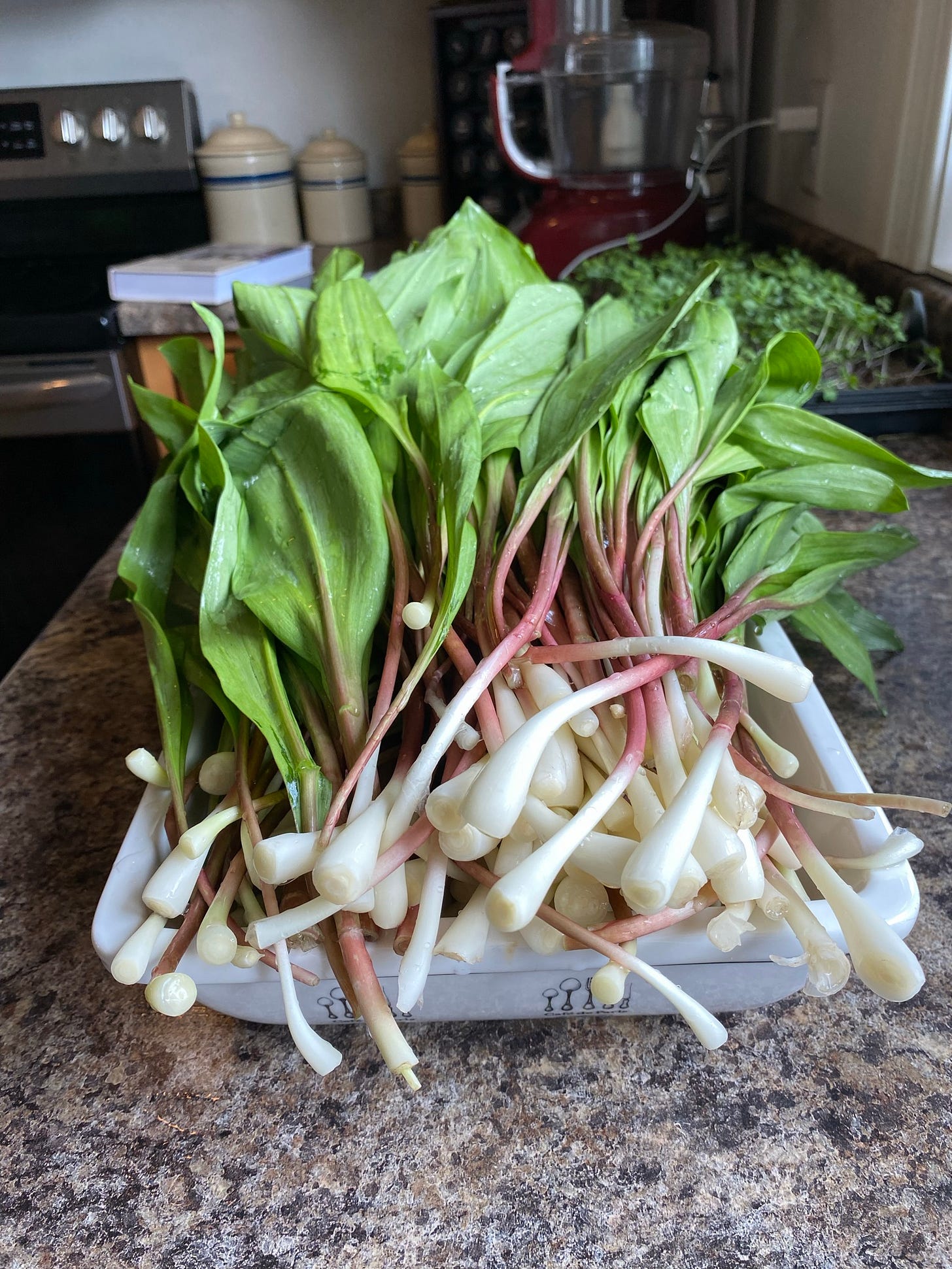 So I took this ramp delivery as a personal challenge and symbol for how well I could stay on top of my shit when thrown curveball after curveball (which felt important to me in my new role as part-time freelancer/part-time caregiver) and got to work cleaning the massive pile of ramps.
Below you will find all the photos and all the creations from our ramp week. A ramp round up, if you will.
I hope you enjoy and it inspires you to grab a bunch before they're gone.
Oh, and if you don't know what ramps are and want to learn: click here. They are like wild green onions that taste of onion and garlic. They can be found and foraged throughout Wisconsin (especially in the Driftless region), but should be done so carefully to preserve their harvests for years to come. They bring so much excitement because they have a very short season (it's just about to come to an end) and are typically one of the first treats of spring.
If you cannot find ramps by the time you get to reading these recipes, don't distress, spring onions, green onions, green garlic, chives, and garlic scapes could all make fine substitutions.
-Lauren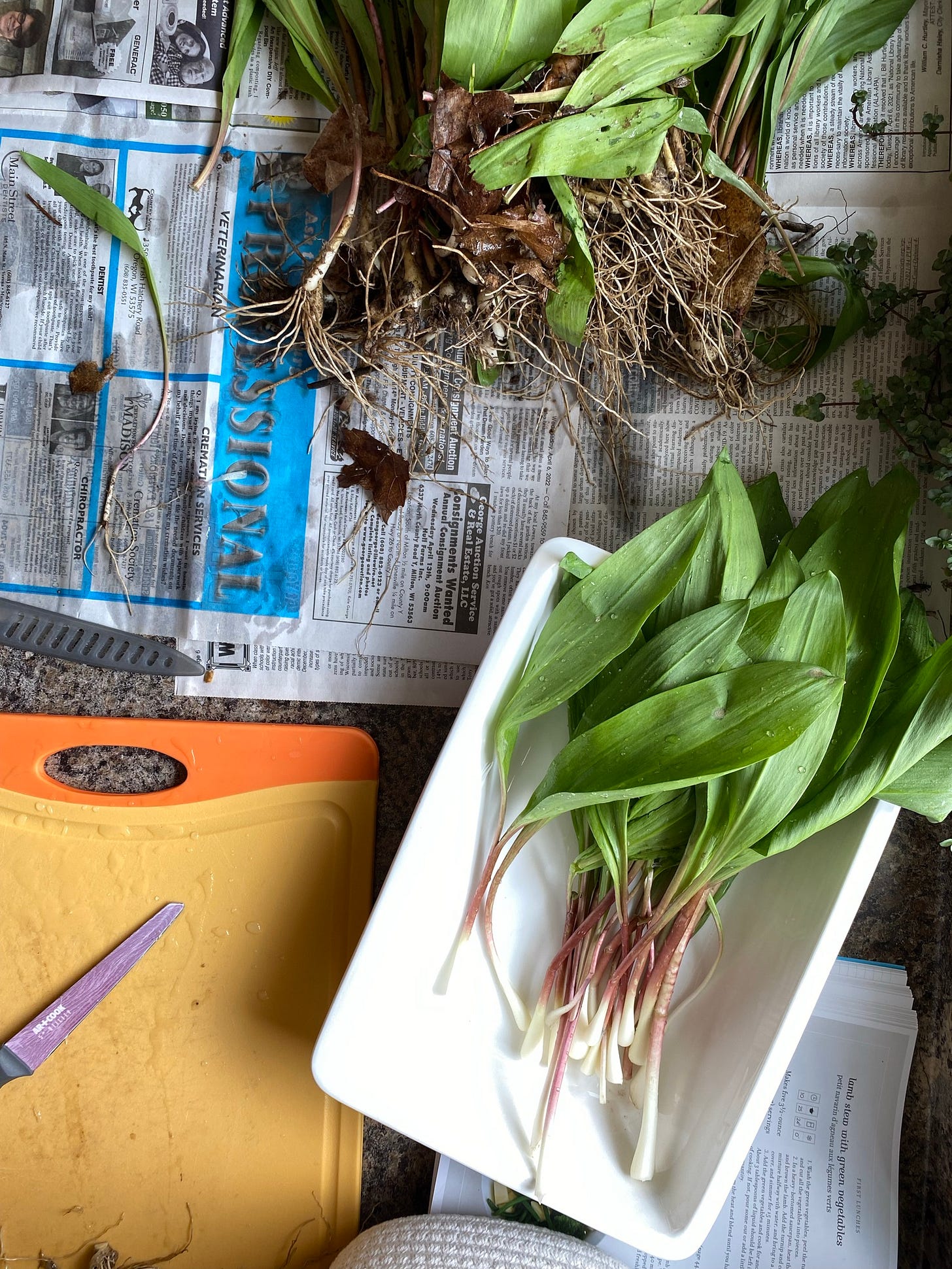 Ramp Cleaning
Ramp cleaning is a very tedious process, perhaps the least fun part of working with ramps, particularly if you forage them or are brought a pile as a gift from someone who forages them for you.
If you get them from the market, the store (locally, the Willy Street Co-op carries them from local farm Harmony Valley!), or your CSA box, they will likely be clean and you can skip this mess altogether.
Ramp cleaning involves removing dirt from the roots (which should be shaken in the place where they're foraged so as to not remove much soil from the area), trimming the roots, peeling away any slimy bits, and rinsing the leaves (which will inevitably also get some dirt in them from the transport).
I discovered a pretty great trick this time around, which involved not having to wash them outside or filling my drain (and kitchen) with too much dirt. I used old newspaper on the counter as a bit of a dirt block and then shook excess dirt off there before rinsing the ramps in the sink, rubbing off slimy layers as I washed.
I had a cutting board where only cleaned ramps would get trimmed and then they were heaped into a container. When they all were washed, yes all of them, I filled my kitchen sink halfway with cold water and did one final dunk and rinse to ensure all the dirt was gone from the leaves. When all was said and done, I scooped the newspaper mess up and toss it into the compost.
It was a lot of ramps so it took a little over an hour, but Lilly wasn't sick yet which meant she found me working in the kitchen endlessly entertaining.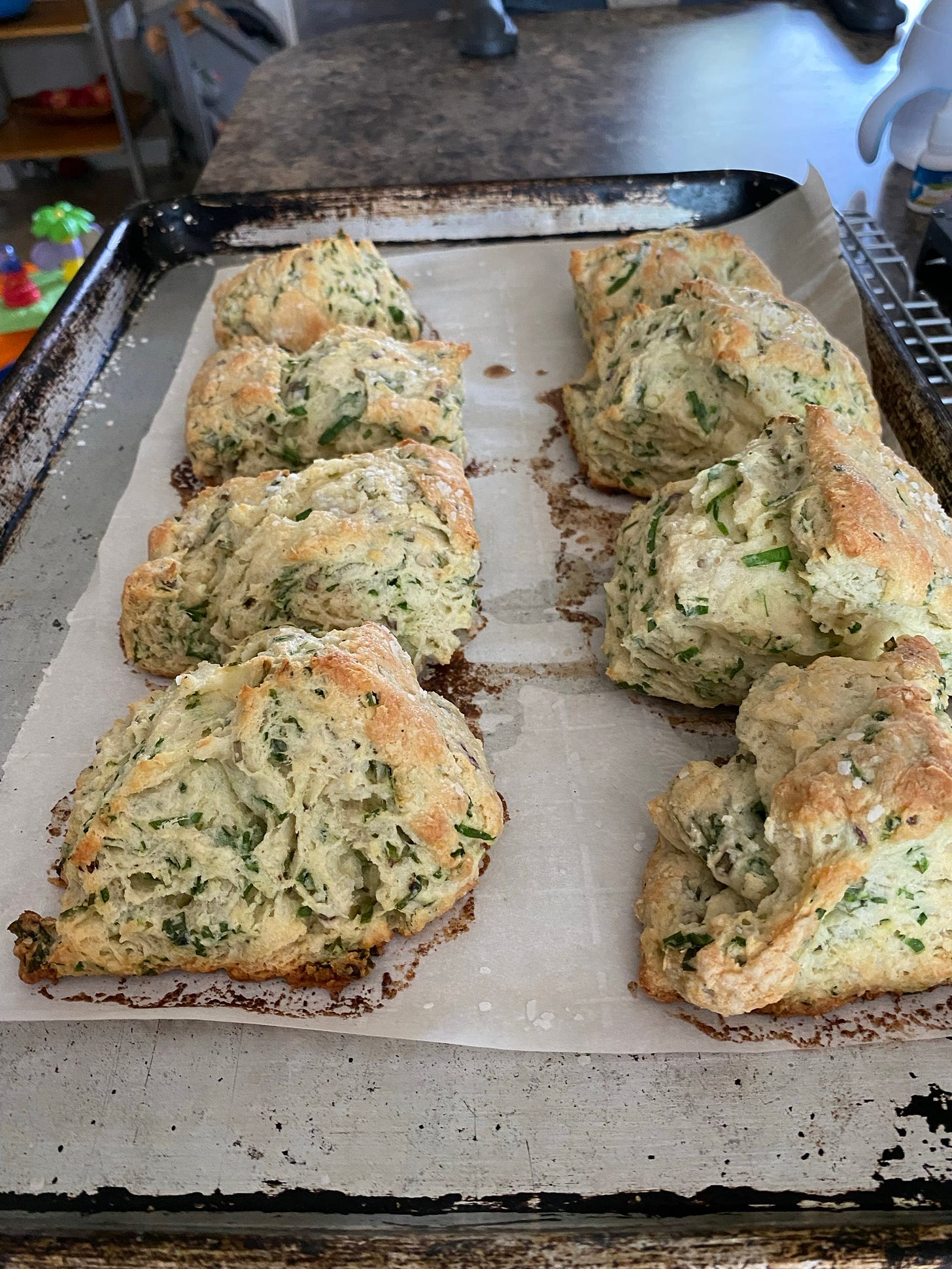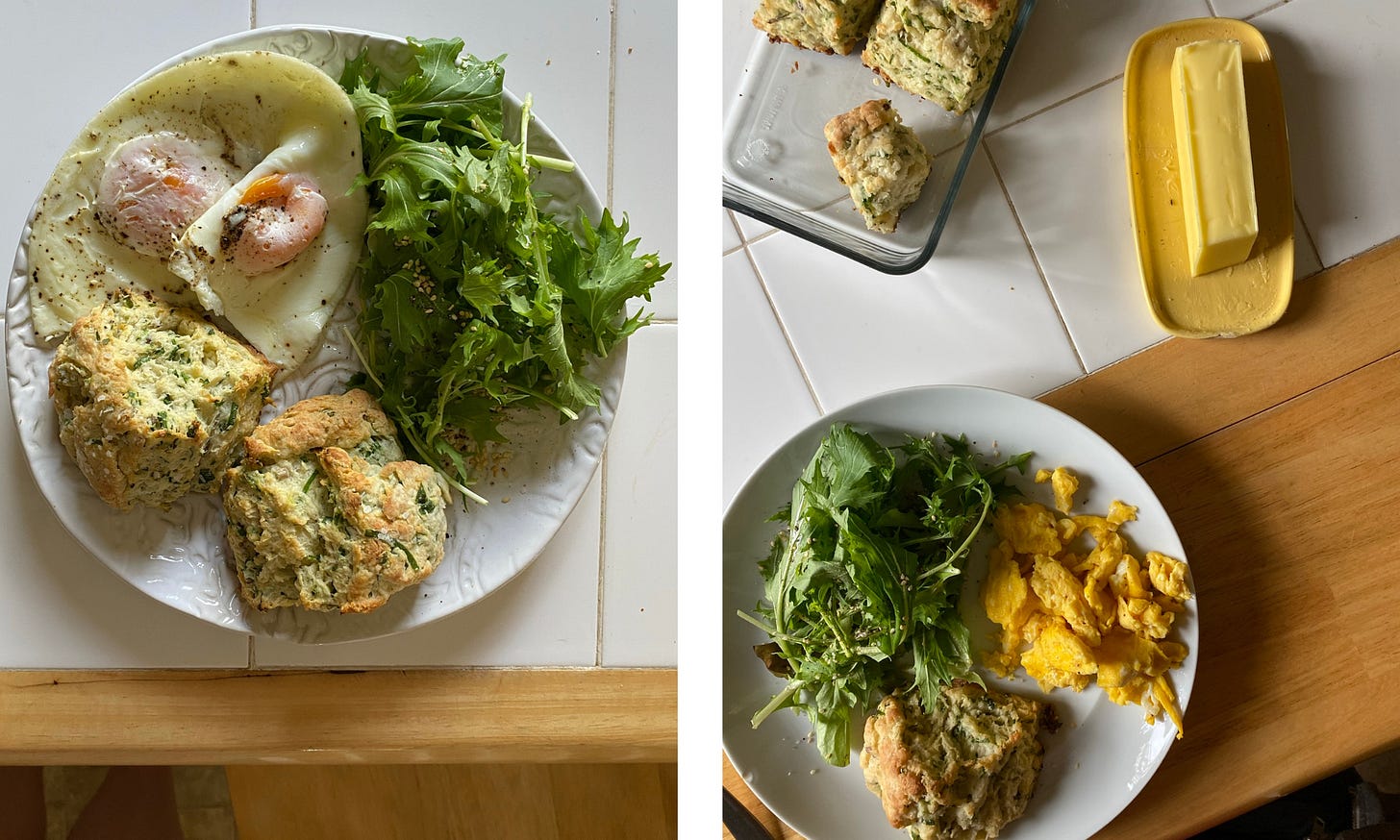 Ramp Biscuits
The very first thing I made with my ramps was one of my all time favorite biscuit recipes with ramps instead of green onions: Bon Appetit's Sour Cream and Onion Biscuits. I used about 2 bunches of ramps (which amounts to about a quarter pound) and they were delightful. We added them to breakfast all weekend.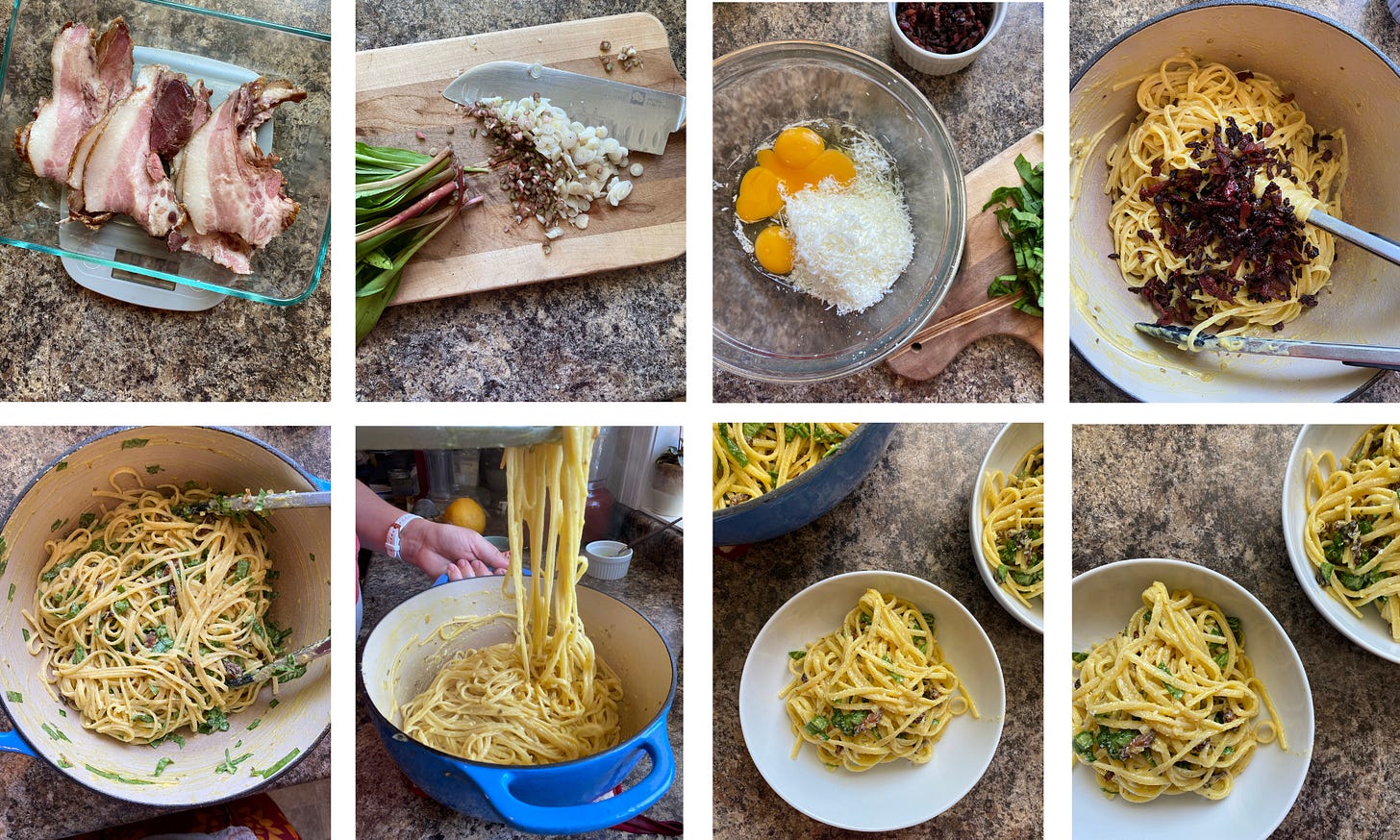 Ramp Carbonara
The second thing I made with my ramps was a recipe I wanted to create for Enos Farms: a perfect, classic carbonara to be made with their smoked jowl bacon (aka their guanciale). Enos Farms is one of my recipe clients for 2022 and I love developing simple, accessible, classic recipes with their meat that also adds a bit of local, seasonal flair. Meet ramp carbonara: simple, accessible, classic recipe with a seasonal flair. You can find the recipe here.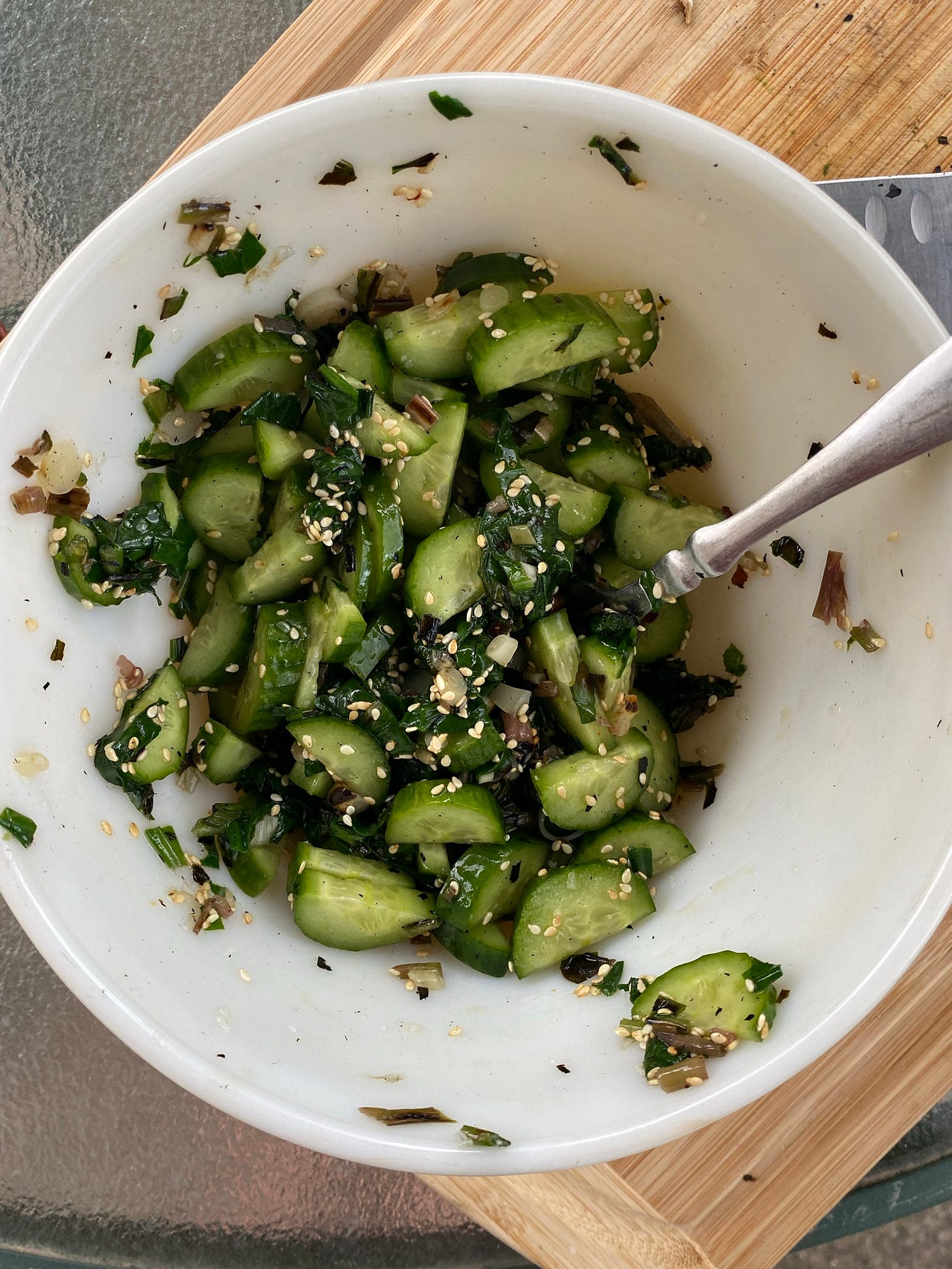 Grilled Ramp Cucumber Salad
The healthy ramp snack I needed in between all the batches of butter (see below) I was making and sampling on sourdough all week.
Serves 1-2 (depending how much salad you like)
Takes 15 minutes
2 bunches ramps (about a quarter pound)
2 tablespoons olive oil, divided
1 teaspoon kosher salt, divided
1 tablespoon rice wine vinegar
1 teaspoon maple syrup
1/2 teaspoon toasted sesame oil
2 teaspoons toasted sesame seeds
Pinch red pepper flakes
1 cucumber, halved and sliced (or 3 mini cucumbers, sliced)
Preheat grill to high heat.
Rub ramps with 1 tablespoon olive oil and 1/2 teaspoon salt. Grill over high heat, turning frequently until greens are wilted and slightly blackened, about 5 minutes.
Remove to a cutting board, slice thinly and add to a medium bowl with remaining olive oil and salt as well as vinegar, syrup, sesame oil, sesame seeds, and red pepper flakes. Toss gently. Add cucumber, toss again, and serve immediately.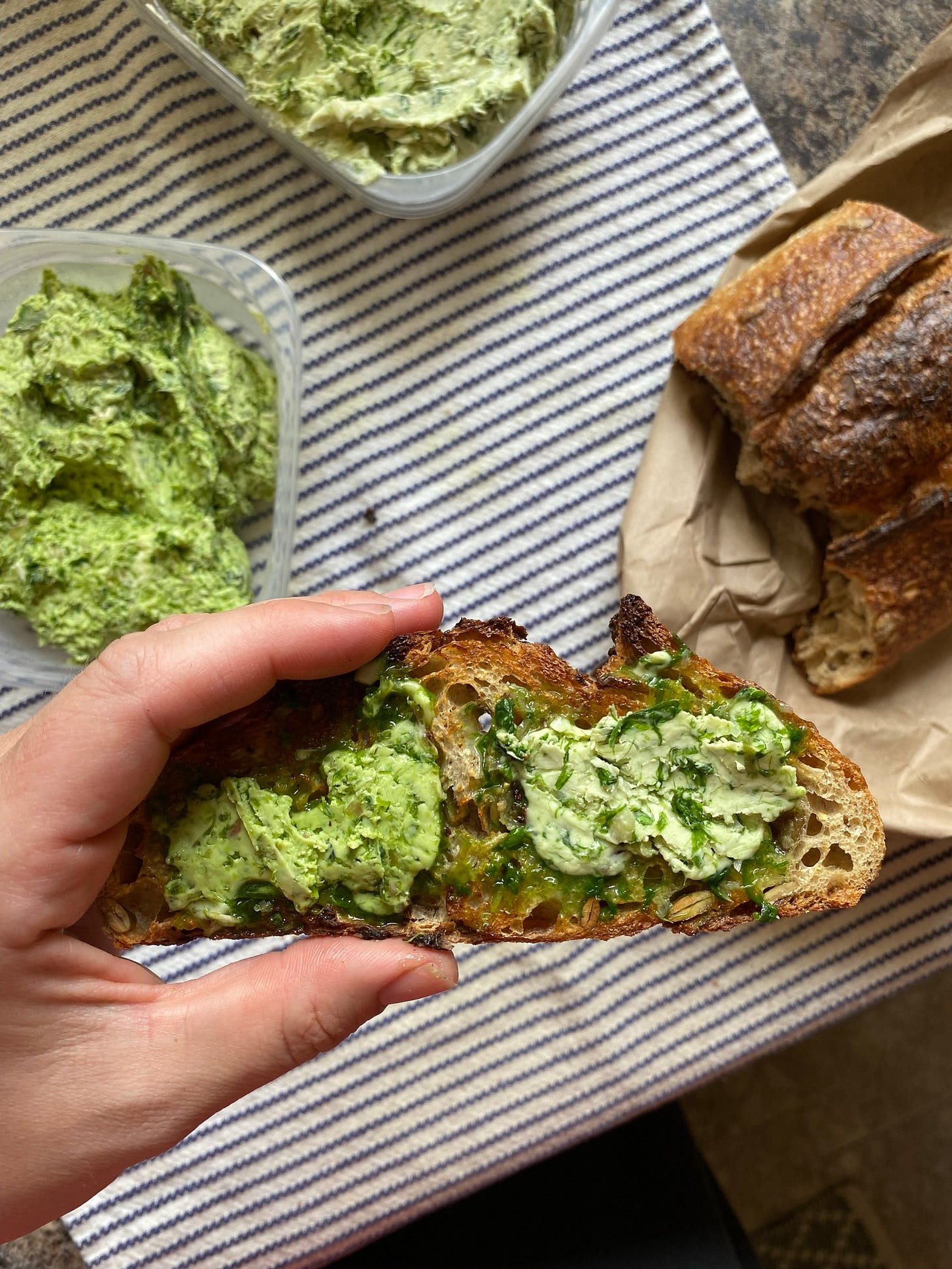 Ramp Butter
After making biscuits and testing the carbonara recipe for Enos Farms, I decided my strategy for handling an immense amount of ramps was to make an immense amount of ramp butter.
And by ramp butter I mean: a compound butter made from ramps that I could serve on just about anything (and everything), and also freeze for winter when my heart needs springy things.
I was really excited about the idea of making a ton of ramp butter for a couple reasons.
Kyle and I are always sad when our annual 2-4 sticks of ramp butter are gone.
It gave me a quick way to ensure the massive amount of ramps I received could be processed quickly, which I needed, because using 5+ pounds of ramps in my regular cooking was fairly daunting, and I didn't want one single ramp to go to waste.
I've always wanted to recipe test a few different methods of ramp butter to see which one is a) easiest and b) the best.
I wound up making three different ramp butters: one blanched, one raw, and one grilled: all with the same ratio of ramps to butter. Here's what I learned.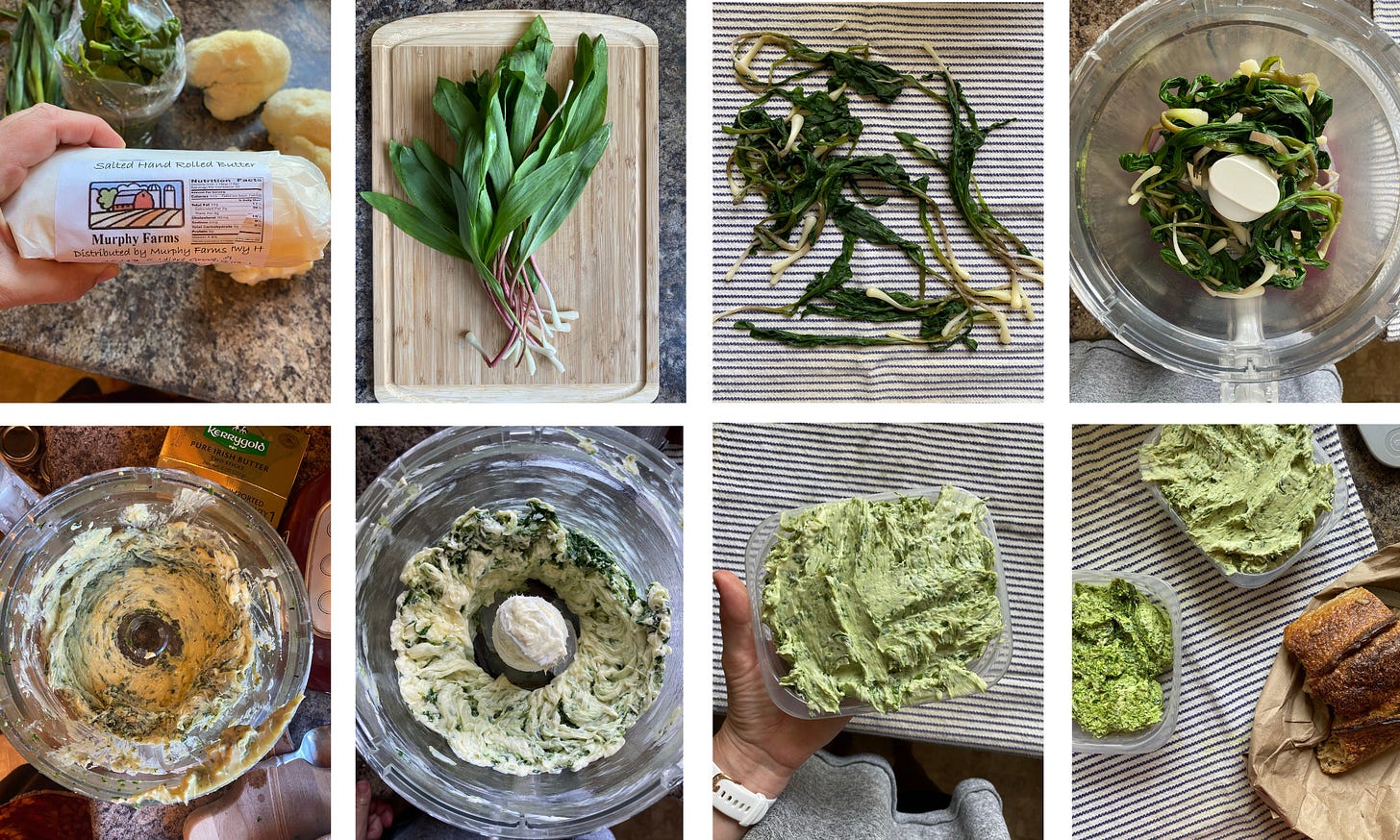 Blanched ramp butter
The number one thing I learned in this testing process was that blanching (aka cooking your ramps in boiling water before processing into butter) is in fact a waste of time. Every recipe on the internet tells you to do this which tells me they're all just listening to each other and not testing it any other way, because why the heck would anyone go through that effort if they don't have to.
I categorically hate any recipe that tells me to blanch anything. You have to spend a ton of time (and stovetop energy) bringing a massive kettle of water to a boil to cook something for a very short amount of time (here, most recipes recommend blanching the ramps for just 30 seconds).
Using blanched ramps does taste good. It has a nice mellow ramp flavor, instead of the sharp bite of the raw ramps, but I'd say it only tastes about 2% better and involves like 50% more work so for me, I'd rather keep the sharpness and lose the work.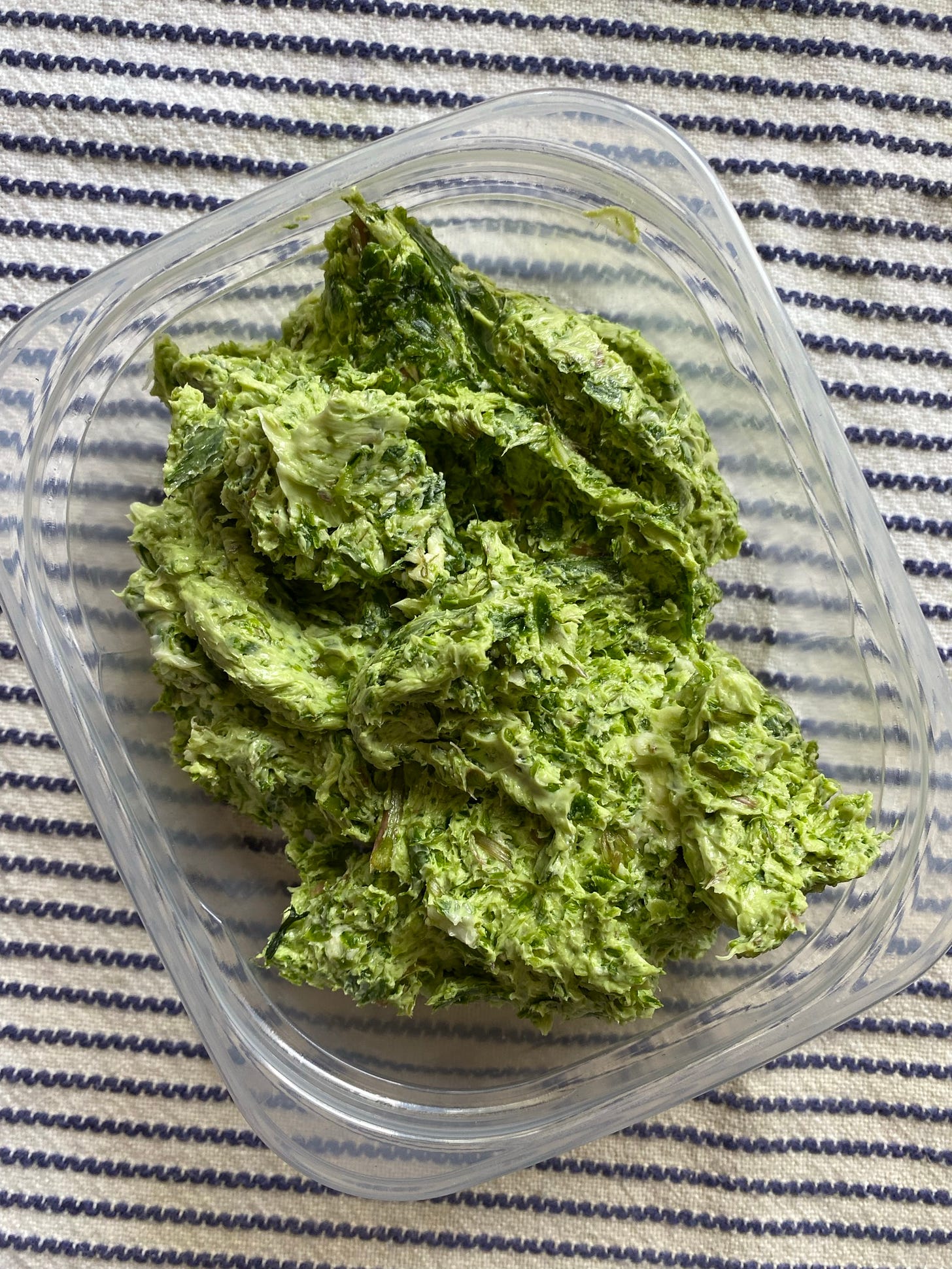 Raw ramp butter
Like I said above, this version of ramp butter is easy, easy, easy. And for that reason, it is my personal favorite. It yields a green butter instead of a creamy yellow one with green flecks (like the blanched version) but all in all, the effort required to pulse ramps in my food processor and add softened butter to have a lovely end product makes it a winner.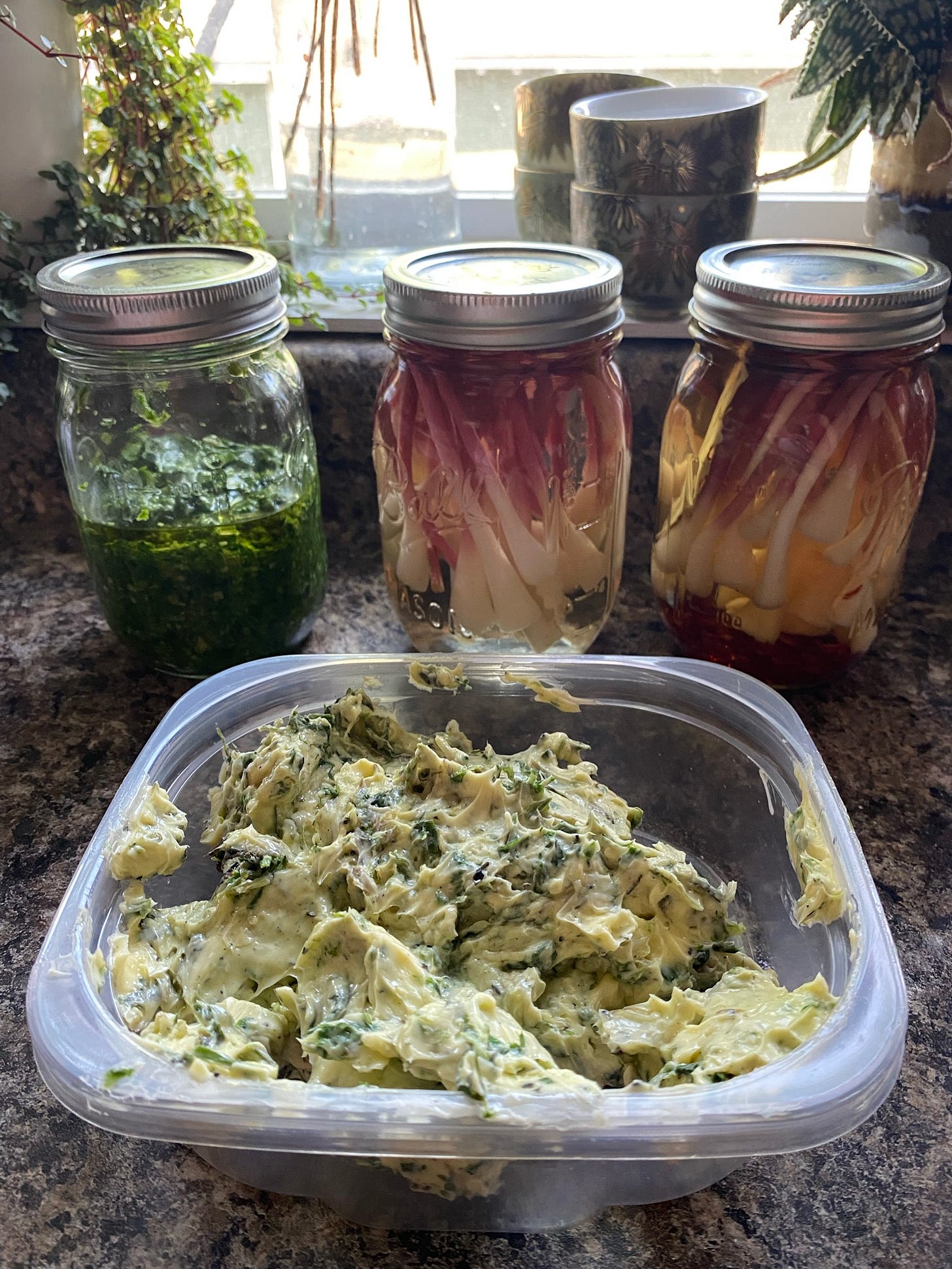 Grilled ramp butter
However, if I had to choose my ultimate favorite ramp butter, it would be the grilled version, and let me tell you why. The grill does a wonderful job of cooking the ramps very effortlessly and adds a mellow smoky flavor that I just adore. If I had to give you just one recipe for ramp butter (and that is what I'm about to do), it would be this one.
Makes 1 pound ramp compound butter
Takes 15 minutes
8 ounces ramps, bulb and greens (or just greens)
1 tablespoon olive oil
1/2 teaspoon kosher salt
1 pound butter, softened
Preheat grill to high heat.
Rub ramps with 1 tablespoon olive oil and 1/2 teaspoon salt. Grill over high heat, turning frequently until greens are wilted and slightly blackened, about 5 minutes. Allow to cool for 5 minutes.
Add ramps to your food processor and process until finely chopped. Add butter and process until smooth and uniform. You may need to wipe the sides of the bowl down once or twice.
Remove to a container or wax paper and chill.
If freezing, cut into 1/4 pound pieces, wrap tightly in wax paper and store in a freezer bag until ready to use.
If you want to make a different version of ramp butter (blanched or raw), note that the ratio is always the same: 8 ounces ramps to 1 pound of butter to 1/2 teaspoon of kosher salt. If you're not grilling, you can leave out the olive oil.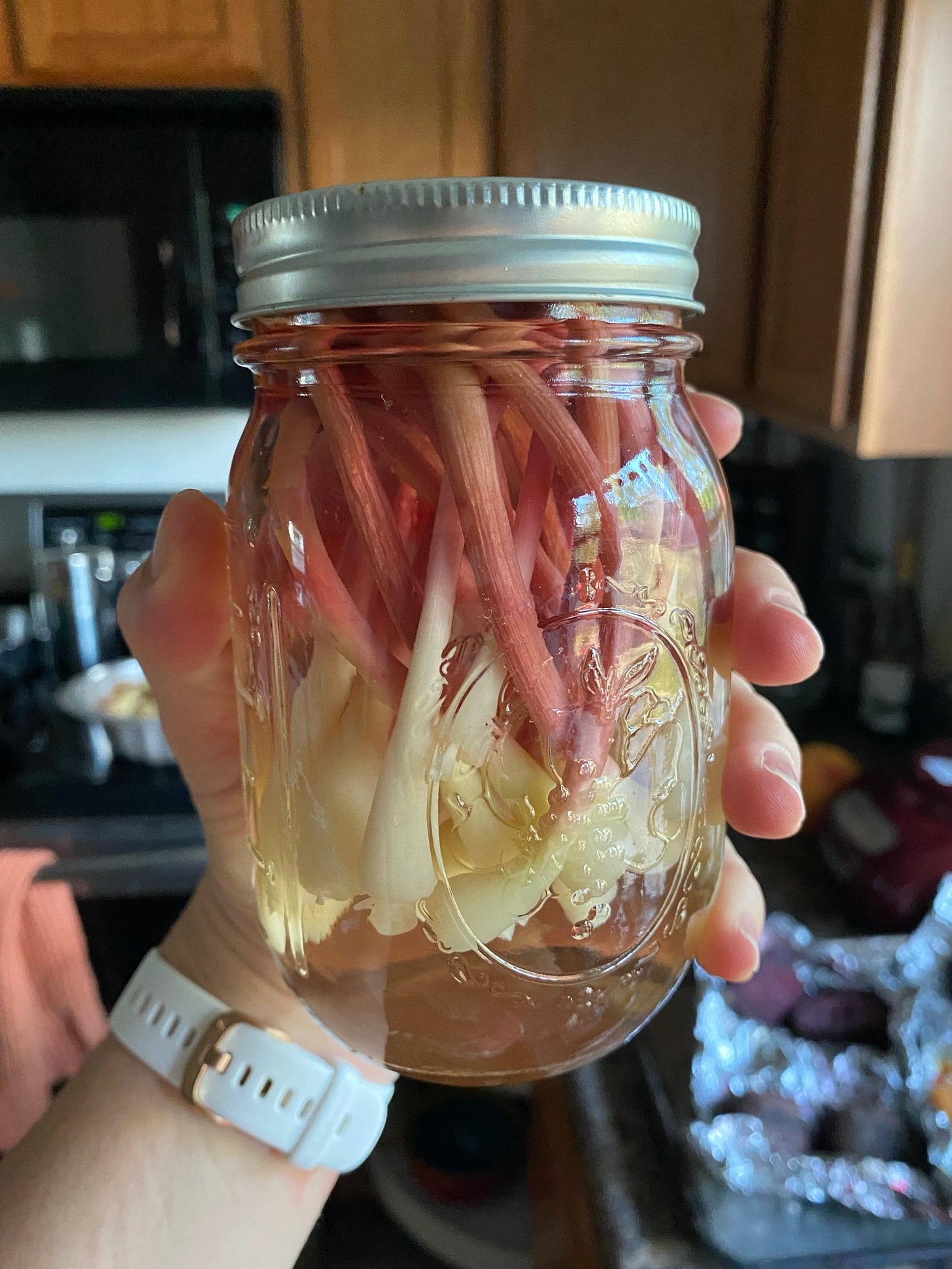 Pickled ramps
When I consulted Instagram to ask you all what I should do with an abundance of ramps, the #2 answer (after ramp butter) was pickles. Having never pickled a ramp before and loving a good vegetable pickle, I thought that was a pretty great idea. I followed this recipe (we did one jar with spices and one without just for fun) and have been eating them on the side of pretty much every meal.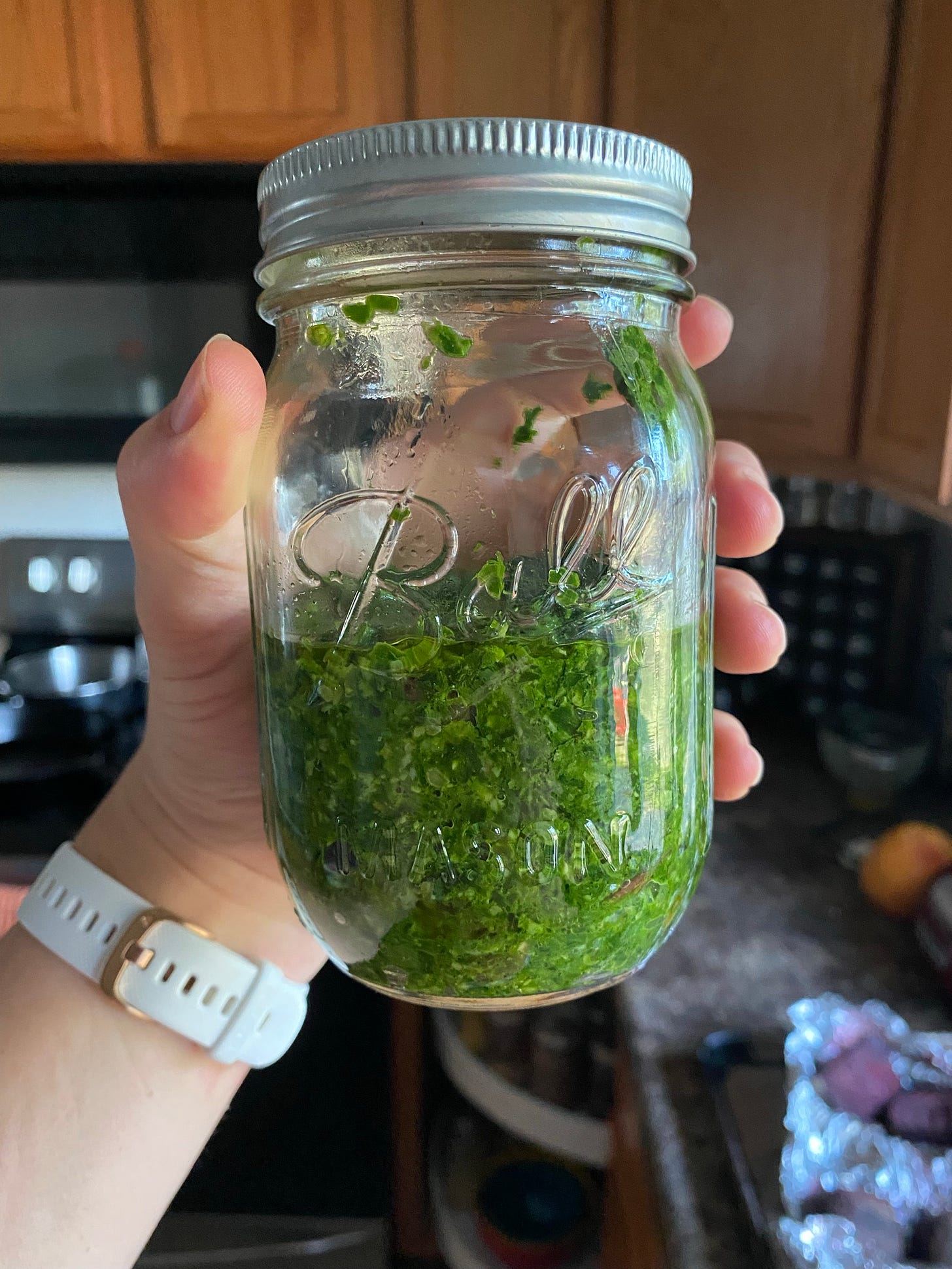 Ramp pesto
The ramp pickles only called for the white and pink parts of the ramps, which meant I had a giant pile of ramp leaves remaining. To ensure nothing went to waste, I decided to make a small batch of pesto. I followed this recipe (loosely) and used pepitas for the nuts because I don't know why really. It turned out great and I threw some into a delicious white sauce lasagna I made with lion's mane mushrooms from Vitruvian and beautiful greens from Squashington Farm. I'll be sharing that recipe with you next week!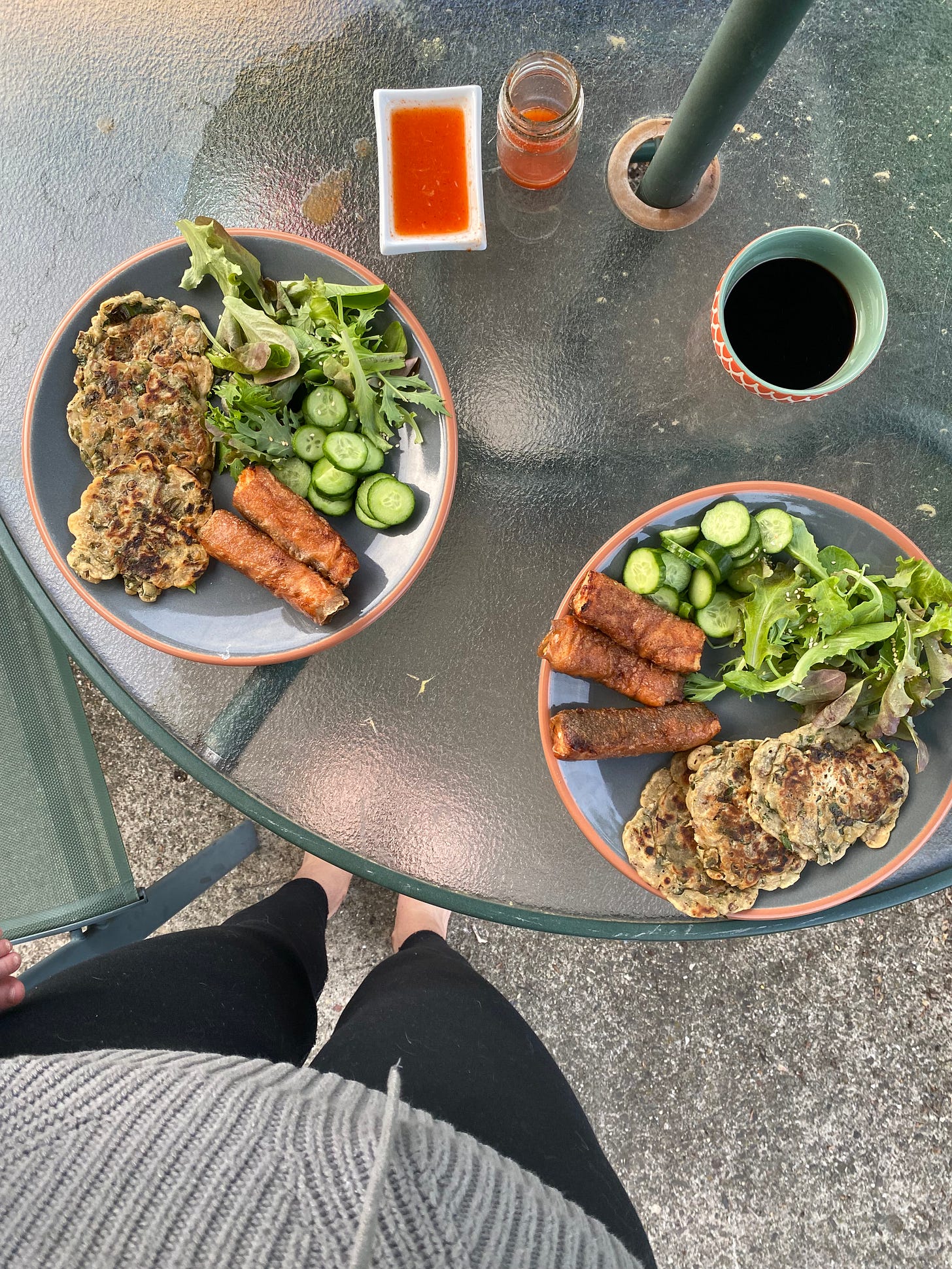 Scallion (or rather, ramp) pancakes
There was one hefty bunch left in my fridge after my crazy ramp weekend, to which I found only one reasonable use: fold them into my favorite scallion pancake recipe and serve them alongside rice paper salmon rolls.